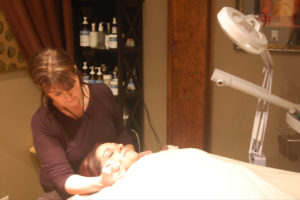 RELAXATION AND THERAPEUTIC FACIALS
Soothed by soft music, you'll sink into our heated bed for an hour of complete rejuvenation. We customize your facial to suit your unique skin care needs, using bio elements products created from trace minerals, essential oils, and plant extracts. Facials include shoulder, neck and arm massage for complete and total relaxation.
Express facial (30 minutes)
30
Short on time? Includes cleansing, toning, moisturizing and relaxing massage. Easily added to any hair appointment or treatment!
Deep relaxation facial (1 hour)
55
Rejuvenate your skin and quiet your mind with this unique relaxation treatment. Includes deep cleansing, mask, gentle massage, toning and moisturizing of your face, neck and shoulders.